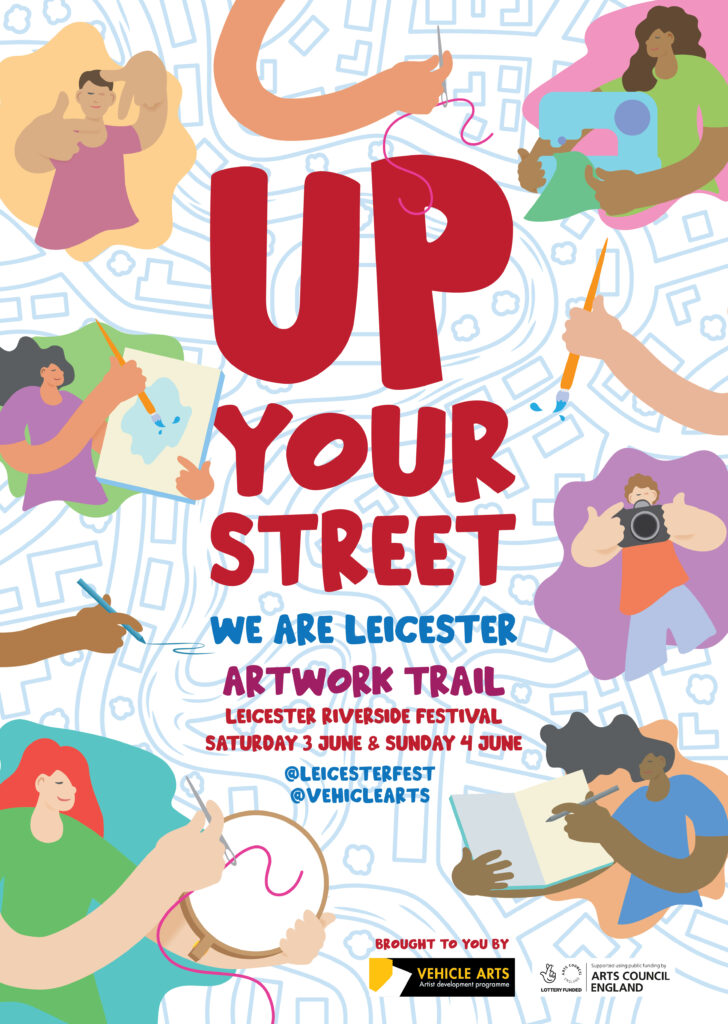 Five artists were commissioned to work on two artworks each:
The first is a collaboration with a city community group.
The second is the artist's own response to the theme inspired by the time spent with the community group.
These artworks then form a trail aimed at celebrating the local communities that are part of the city. The trail was brought to life by clues hidden in each piece, which audiences could work out by visiting each artwork. By collecting each clue and answering them right, great art prizes were won!
Theme: Unity
The recent unrest in Leicester alongside the long-term effects of an extended Covid lockdown in the city 2020/21 has had an enormous impact on how people feel about their city. Throughout these problems it is a sense of community that kept Leicester pushing forwards & this project is aimed at celebrating these communities.
The Artists
Each commissioned artist has been selected due to their style of art and their personal connection with the proposed community group.
Each artist will work with their community group over a series of four workshops. The workshops will focus on strengthening social ties, developing new skills and creating the final artwork ready for the trail.
Artist Anton Levy Amoo has been working with a community group based in the City of Leicester College. Anton's art practice mainly focuses on expressionism and abstract works using paint, experimenting with the process and exploring emotions which are just energies in motion. For the 'Up Your Street' project he has been working with The City Of Leicester Community College, a community close to his heart having worked there for 10 years. The group had been exploring different mediums, techniques and having discussions around Unity, Community and mental health creating a dynamic piece especially for the Riverside Festival trail. https://www.instagram.com/antonlevyamoo.art/
Artist Traci Howard has been working with a community group in West End/Braunstone Gate area of the city. Traci is an illustrator and sculptor of small whimsical things and met with a group at 96 degrees coffee shop and later at The Archway to create small collages representing themselves or Leicester. These pieces are displayed in pieces of wood, representing trees in a forest. Traci then went out into the local community to take photographs and interview people on their thoughts on community. Using what she gathered she will tie these pieces together using red thread, hand spun and dyed in her hometown of Johannesburg, to symbolise unity and bringing people together in the many things that connect us which undoubtedly out weight what makes us different. https://www.instagram.com/traci_howard/
Artist Adam Khalifa has been working with a community group from Highfields and St Matthews. Adam says "The workshops have focused on the working title: Saath, which means 'Unity' in Gujarati. This has been visually translated using Indian patterns and paint. The group have worked on and discussed how using these designs reflect: diversity, prosperity, new beginnings, and celebration." Adam's personal practice is inspired by diversity and community culture within the working-class environments focusing on cultural, religious and political dialogue. challenging current ideas and concepts that open new questions, capture diversity and making work for the wider community. https://www.instagram.com/artbyakhalifa/
Artists Ali Carpenter-Hughes has been working with a community group in Belgrave. For both her community piece and own artwork, Alison started by considering the word 'interwoven,' as she was interested in the idea of textile materials, terms and techniques reflecting the theme of Unity and how these could be used as a metaphor for togetherness. Alison has been working with a knitting group at Belgrave Library, that originally formed online during the lockdowns as a way for the local community to come together and have continued meeting in person since. Initially, participants considered questions about their community and unity; thinking about words and imagery to reflect these. The group spent the first session working with fabrics, stitch and beads to add to a communal artwork and decided that they wanted to create the finished piece round the festival, Diwali, as this is a time for community and family celebration. Making traditional decorations, such as Toran, and using weaving, sewing and other textile techniques, the artwork will include visual symbolism to incorporate the festival theme of light over darkness. https://www.instagram.com/pootlesmoon/
ebecca Harvey-Hobbs who has been working with a community group in Eyres Mounsell. When Rebecca first moved back to the city, Eyres Monsell was a place she would travel to when visiting her mother-in law. The landmarks and curious characteristics that she would notice on those journeys became implanted in her memory. Fast forward a few years and she has gone back to the community to work on two artworks for the Up Your Street trail. Her mixed-media sculpture is an imagined world – an urban village – based on those things she used to recognise but also inspired by the stories and things she has observed during her time in the community. https://www.instagram.com/betsieland/